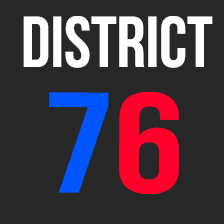 ABOUT District 76 Gaming
District 76 Gaming was founded August 2th, 2018 reopened 12/30/2018 as a roleplay community an independent community. It became apparent that the model we used did not reflect the type of community we wanted to create. On August 21st, 2018, the District 76 Gaming was completely reorganized. The District 76 Gaming switched to a fantasy based inspired theme to break away from the Nevada theme we had no luck in. The new organization model features little rank structure except for main staff and a more laid-back atmosphere.
OUR VISION
We aim to create a community focused on realistic role-play, while still being able to have fun. Here you will not find leaders and staff who are too strict and unapproachable. All the way to the top, we are down-to-earth and easy to get along with. We do not have the complex hierarchy of real emergency service ranks, but a small set of simple community roles. In game, all members role-play as a middle-ranking officer at highest. Our training/orientation involves a lax "learn as you go" system, with current members teaching and coaching new members along the way. We are not a "lifestyle" role-play community, meaning that we do not play out characters with lives, money, needs, etc. This allows our civilians to focus on building multiple scenarios and characters without limits creating a much more immersive experience for all members. We are not focused on becoming an extremely large group. Here, we value quality over quantity. Every member will personally feel relevant in our community. If you are looking for a professional, yet chill group of people to role-play with, you've come to the right place.
Message from the Founders
Hello, Welcome to District 76 Gaming this is our official website, here you will find Information regarding our Roleplaying Departments.
Leadership
District 76 Gaming Director & Founder: Josh R.
District 76 Gaming Deputy Director & Founder: Ian E.
Asst. Director: TBD
Asst. Deputy Director: TBD
Community Manager: TBD
Departments
San Andreas Highway Patrol - State Law Enforcement
Blane Co Sheriff Department - Local Law Enforcement
Los Santos Police Department - Local Law Enforcement
Multi-County Communications - Local Communications for Emergency Services
Multi-Country Fire & Rescue - Local Fire Department / EMS
Civilian Department - Civilians for In-Game Roleplay
Please Don't join then leave.
What we have
Treating everyone equally and respectfully
Recruiting members
Custom MDT/CAD
Custom Car Skins for LEO
Custom Documents
HIRING DEPARTMENT HEADS
Requirements
MUST own a full, legal copy of Grand Theft Auto V for PC. (Excluding Communications)
MUST be 13 years of age.
MUST FULLY understand English and be able to speak English as well.
MUST have a working, clear sounding, headset (no feedback allowed from speakers/microphones).
The application must have COMPLETE SENTENCES and PROPER ENGLISH.
MUST read and agree to all of our community rules and regulations.
MUST show respect to both players and staff/administrators at all times!
Server IP: for members only.
CAD/MDT: mdt.district76.cf
Discord: https://discord.gg/ZnP25xZ
Teamspeak: Soon.